Welcome Guest - Login / Register Forum - News - December 13th - News
December 13th - News
Sticky threads
Latest Posts
slosumo - Administrator
Traffic Value: $28,438.4426 Slovenia
*
*
Security Tip
*
*
Secure your account with 2 Factor Authentication:

Go here!
Lock any payment option you don't use:

Click here
- Read what it does carefully!
We will reply to this thread throughout the day with any news and any other information!
Click the "Show only administrator posts" button above this post, to see today's news notifications. That'll hide all the user comments and chit-chat. (You can press "Show All Posts" if you want to read through all that).
----
PIN security feature has been added. You can

set it up here

!
When set you will need to enter it once per session when making actions/accessing areas of our websites that deal with money, shares, BAP, account settings or investments.
If you lose your PIN/enter it incorrectly 3 times, the only way to reset it, is by contacting our support, who may require additional identity verification.




Marc de Koning, CEO - Facebook


Paidverts - Facebook


Paidverts - Facebook




My Traffic Value - Facebook


Barter My Funds - Facebook
CoinFlip Evolved - Facebook
Warclicks - Facebook
PlayBitcoinGames - Facebook
PlayPerfectMoneyGames - Facebook
-----------------------------------------------------------------------------------------------------

War Clicks has made it through to the top 100 Best Indie games of 2018 on IndieDB. Thanks to everyone who voted!

We are now through to the final round of voting, which last for 7 days more, and will determine the top 10 players' and editors' picks, and help them get more recognition and traffic.

So vote for us one more time and help us reach the top!
(Click on the button top 100 -> next page 'Vote')

https://goo.gl/t61FDv





-----------
The first Event on War Clicks has ended yesterday and players really enjoyed it. During our featuring on Kongregate (we're still there!) we raised our rating from 3.73 to 3.8, with an average new rating of 4.36, which is amazing, and that sort of quality puts us amongst the top games.

We just need to keep up the promos, regular updates and raise that average rating up, as the higher that is the more attraction it gets.

With the release of Country vs Country feature and a new themed event in the following two weeks we'll definitely continue on that path!

------------

There are less than 2 days left until the 50% off advertising sales ends on PaidVerts so make sure to stock up on discounted ads while the offer still lasts


* all prices are already reduced
* BA, New Users and Cheap traffic ads excluded

https://paidverts.com/member/buy_ads.html
totoer008
Traffic Value: $1,804.70567 France
That are some really good results ! I have a question concerning Warclicks will it be available on mobiles ? I know it will boost our sales, I am used to play Kongregate games on my iPhone. 
Benrijk
Traffic Value: $15,174.80528 Netherlands
I don't play Warclicks every day, but i'm progressing pretty well. The kick of gaining levels, building an army etc. Must say that this game has improved very much since the start of it. Now if i only could kill that damn boss
fraser
Traffic Value: $10,524.3446 Australia
Quick update on Warclicks (Kongregate)

Over the last few weeks, at the time when I log in there were usually 25-40 people actively playing the game.

Whilst the feature was running that number was up at around 130.

The feature appears to have ended, but the number is still around 110, which I'd say is great retention. See...I can say nice things Slosumo


You may have noticed this, but the majority of featured games logo's do not have any movement in them (the warclicks one did).  This makes it much more noticeable compared to the other featured games.  Worth bearing in mind for the next update/feature.


PS - Is it possible/allowable to have an in-game reward (coins etc) given for adding the game to the users account favourites?
babycare
Traffic Value: $22,707.14148 Saudi Arabia
While voting for Warclicks, please make sure to click the red tab 'vote' on the left, which will turn green and 'voted', if your vote was counted.
rayden1991
Traffic Value: $684.68747 Bosnia and Herzegowina
@babycare I don't see that button  i have this 


http://prntscr.com/lusjse

And i can click that 100 button under " vote for this game "
babycare
Traffic Value: $22,707.14148 Saudi Arabia
Click on that 'top 100' button, which will open a new window with 'vote' tab at the left-middle, if you are using a mobile. Click on that.
druth8x
Traffic Value: $22,417.44153 United States


When I clicked vote my screen moved to the place in the list that WC is, so I clicked that red button and now it shows I voted.

https://www.indiedb.com/groups/2018-indie-of-the-year-awards/top100

That's the direct list of all 100.

If you scroll, WC is in the middle, 4 categories 9 games above "Upcoming Games", which turns out almost half of the Top 100 are Upcoming vs released.
gizla49
Traffic Value: $73.34268 Hungary
Am I the only one who get the following error message while watching ads regularly?

"Only one ad at time, please try again."

I'm not watching more ads at the same time, of course. What could be the reason?
jordy186
Traffic Value: $868.5955 Netherlands
@

gizla49






running ccleaner will probabaly solve the problem for you
unthink
Traffic Value: $9,606.72522 Portugal
The competition is getting tought
 Nice to finally see some activity. Good job everyone!!!
slosumo - Administrator
Traffic Value: $28,438.4426 Slovenia
Today 15th December, we have started two of our BIGGEST EVER events on PaidVerts!

Get a share of 5million BAP prize pool in our Wagering competition, which ends on the 25th December:
https://www.paidverts.com/wagering-competition/6.html



Get a share of a $1500 prize pool in our Paidverts Referral Competition, which ends on the 31st March 2019:

https://paidverts.com/contest.html



These are the biggest events ever by far, as we are confident that PaidVerts will snowball to new heights in 2019! Make sure to participate and get a share of these rewards yourself to start strong in 2019.

*NOTE: there will be a lot of promotions coming in December, via which you will be able to give your new referrals the best starting point. So start referring as soon as you can to get a head start over others
il051
Traffic Value: $14,823.02214 Croatia (LOCAL Name: Hrvatska)
Happy birthday, Marc!!!
Take this day off (it's Sunday anyway) to celebrate with your friends and family and tomorrow back to work, we need you here! :-D
MarcdeKoning - Administrator
Traffic Value: $468,983.12758 Netherlands
jagodinac123
Traffic Value: $354.01015 Serbia
Waiting to get LA campaign approved since friday morning...
bambarec
Traffic Value: $17,409.62296 Romania
I made a small campaign two weeks ago and i made 16 referrals and i told you i will came with results to share them. After the small changes to paidverts who made viewing ads more easy my referrals made after this changes bring me the exactly amount of $ 0.01285 so you can have your own conclusions. If stability and being profitable means no one can make anything and have a few active members you made it. I want to ask something if sameone could give a right one, if sameone invest 100$ in paidverts from his pocket meaning that in paidverts account will reach like 90+ $ how much that person can make a profit in lets say 1 year? I think i know that you probably can't get 100$ cash back into your hand after cashout fees but i may not see the right options so that's why i ask especially staff how can you do something in paidverts even with 100$ invetsment 
klemen50
Traffic Value: $5,893.23193 Slovenia
Slosumo, any news about my problem with login ads?
slosumo - Administrator
Traffic Value: $28,438.4426 Slovenia
@jagodinac Approved just now myself. * In January we'll be also looking at improving our approval procedure, and campaign changes request, as there has been a lack of time/following those lately, but we want to improve response time of that a lot.

@klemen Unfortunately not yet. As mentioned Paul was unreachable over the weekend so will hopefully be able to check it today. I'll report back as soon as I get a report from him.
jagodinac123
Traffic Value: $354.01015 Serbia
@Slosumo

Something definitely wrong with LA...
You approved my campaign, I just followed the procedure forth...and in the end I get a msg saying I didn`t choose an ad?
So I go back and check all...I now see 7$ as minimum so I sold some rp to top up on previous 5$...but I`m still unable to complete the procedure...
I get the same as klemen...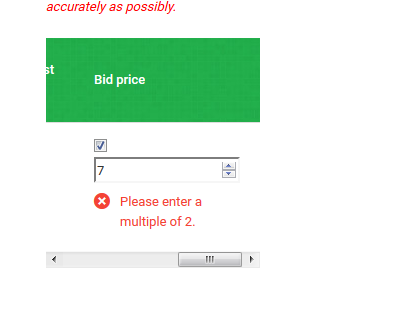 slosumo - Administrator
Traffic Value: $28,438.4426 Slovenia
@jagodinac and klemen, can you try again please. I've reduced minimum bid to $4. Maybe the combination of odd start bid, and $2 increment is causing the issue by some code checks. Maybe if both starting and minimum increment are of size $2, it will work.
Page: 1, 2