Ptc share
Sticky threads
Latest Posts
pisti87
Traffic Value: $952.82322 Hungary
I've sent a support ticket about 2FA. The textbox is very small, only 3 rows are visible, and it can't be resized.
slosumo - Administrator
Traffic Value: $28,438.4426 Slovenia
Good morning all!

Please keep posting any issues, or improvements you'd like to see. We're noting them down and will almost surely do any that are sensible


One general note: A bunch of issues reported are existing from PV already, and the priority for this build was a quick, cheap build that can allow us to get started, and not dig into all the small details/improvements, as that could delay it a lot. We focused on improving the core and most important things.

Also with limited design and programmer time we didn't fix every single display that resembles PV, but definitely will.

So with that said, we appreciate any and all reports, and will get to them with urgency to improve experience for everyone. Also if you find any texts, or explanations that are unclear, or should be explained better, please write it down and let us know!

We're also keeping a log of these tasks and improvements, so once we're done with implementing the urgent things on PTcshare, we'll definitely implement them to PaidVerts as well at a later date.
Vixthra
Traffic Value: $2,179.00664 Slovenia
Maybe a launch e-mail? (There wasn't any yesterday)
jordy186
Traffic Value: $868.5955 Netherlands
 it would really be nice if we want to (re)buy adpacks that we can select the campaign. now we have to fill in everything and save the banners 
slosumo - Administrator
Traffic Value: $28,438.4426 Slovenia
@pisti Regarding FA ad pricing. It is crazy how people don't realize how UNDERPRICED they are on PaidVerts. Right now they deliver you ~14k unique views for a measly $5.

The past few weeks I've been testing and helping promote PTCshare, and it's absurd of what prices PTCs have for their fixed ads, and how, well shitty, their delivery has become. Only on 3 out of 20 PTCs I got more than 500 views per $1 spent, where most of them were in the 100-300 range.

I've even done some big spendings to test 2 of the giants in the industry, a I was wondering if their seemingly absurdly high prices are there for a reason. I was shocked, as it turned out to end up delivering 1k views for 5-7$price. You'd at least think that conversion was good - far from it, worse than on the low/Small PTCs.

That said, if you are promoting on PTCs, in general it's best to these days stick just with direct credit purchases, which are between 800-1500views per $1.

I've also tested PVs fixed ad effectiveness on various sites, and I've gotten more refs from them to test sites with crappy splash/catch pages and plans, compared to what I got here to well prepared splashes etc.

So PV's fixed ads are currently cheap, and we will not be devaluing PTCshare's ad slots as much, definitely not from start. Just try them out and compared to what other industry leaders offer, and you'll be surprised at how they compare.

---
You might find some exception to the above with decent ad prices, but not to any degree convenient for a bigger promoter. Just in the range of deliveries of less than 1k ad views per day, per site. And it'll also cost you a ton of tests to find these small, but cost-effective places.
slosumo - Administrator
Traffic Value: $28,438.4426 Slovenia
@klikdiva Regarding offers. Unfortunately this is not something under our control, and is potential to happen with any offerwall in my experience for an number of reasons. That said I contacted our account manager at Wanna ads, to see if they can help reduce those issues, or help us more accurately filter the offers that are morel likely to work for a user.

But to say that someone is discriminated against because he has different/less offers available is just silly. Why would an advertiser who wants to sell a product in X country, want to advertise it in Y country? It makes no sense.

Offers are simply demand based, and if the offerwalls have advertisers who buy traffic more focused in certain countries, there's nothing us, or they can do about that.

Unfortunately that's how demand and supply works. Offers help a good portion of our memberbase gain extra cash, which is great! Removing it for them, because others don't have that opportunity would just result in removing the option for them to be able to earn more. The mentality of "if I can't have this, then noone should" is just not helpful to anyone.

Also note, that those users who have good earning potential with offers, also indirectly help YOU earn more. Money they earn with offers they can/will use on our site, providing more money being turned around, more ads delivered to everyone etc.
pisti87
Traffic Value: $952.82322 Hungary
@slosumo: I agree and understand your point. PV's FA is cheap, but there are still several ads without any bid every day. If there is promotion, and it's even cheaper, almost every one is bought. I was just talking about the difference. The traffic will be probably much higher at PTCShare, but not 10 times higher, or at least not in the beginning. So I think it's better to start from a lower price, and if people buy it, and the traffic increases, it can be set to a higher price. But maybe I'm not right.
slosumo - Administrator
Traffic Value: $28,438.4426 Slovenia
Appreciate your thoughts pisti - yes it does result in ads not always being bought, but have to disagree there with you in general.

From a marketing standpoint it's better to overprice, as you can always reduce the price, make discounts and that way compel more people to buy. But if you cement a regular price very low, people get used to it and find it nothing special. And if you then lower it further or make discounts, people will buy in THOSE occasions, but us making basically nothing off it.

A great example her are banner impression pricing on PV, which we a few months ago increased their regular prices by 20-40x times! It actually resulted in MORE revenues made, but also in a more healthy and attractive system, as there's not that much banner backlog, allowing faster delivery, and when someone does buy them, they stand out way more and get better results.

Take the following example:
Is it better for us to sell each spot every day for $1, or 2 spots per day priced at $2?

The second generates us more revenue in the end. Even when we had 2-3$ prices on FA for quite a long period consistently, they were NOT bought out at all. So it doesn't change much once people get used to the prices.

That said, we will monitor how things go, and adjust any prices accordingly after say a week/two when things start to maybe settle a bit. But who knows, we might up ending increasing them as tens of thousands more people join!

That is for certain, we will only continue growing in the following weeks, so reserving some ad spots at the current prices might seem like a bargain in a few weeks if our memberbase increase that much and we are forced to increase them.
corsicanu
Traffic Value: $433.16796 Romania
i really love PTCShare. I want to report an error. Almost everytime when i watch my ads  i got this message:



i don't have multiple windows to see the ads, only one. Please can you fix this? Thank you in advance.
By the way i am on group 5 and i already received almost 400 ads  lol.
slosumo - Administrator
Traffic Value: $28,438.4426 Slovenia
We're looking into this coriscanu. Seems to be caused by a 500 issue. try refreshing the ad view page if this happens.

And yeah, tons of ads being recycled around, so if you'd like to view a ton of ads (I got a bunch of $0.01 as well), definitely buy the recycle upgrade!
jordy186
Traffic Value: $868.5955 Netherlands
the recycle upgrade works too

i just got 499 ads added to click en did rebuy it again


I got that message only 1 ad a time too after i got a popup ad
pisti87
Traffic Value: $952.82322 Hungary
I experience this the 2nd time: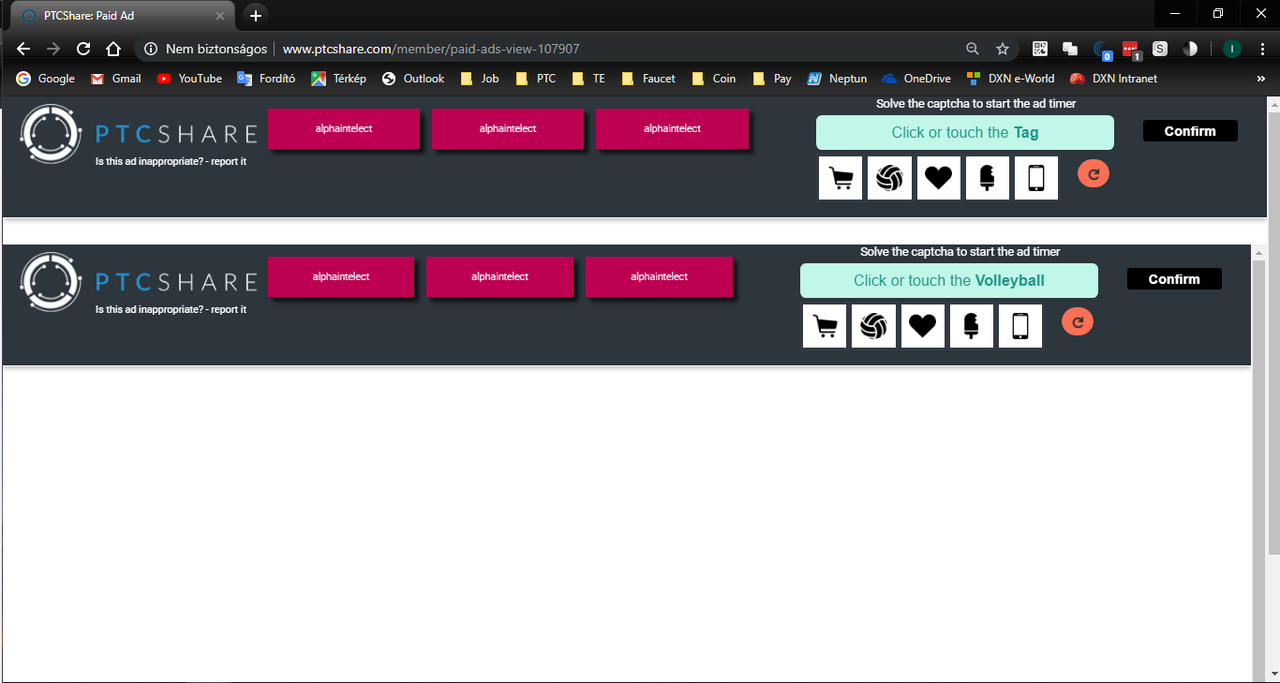 Also, I think it should be forbidden to promote PTCShare link on PTShare...
jordy186
Traffic Value: $868.5955 Netherlands
after extending my recycle upgrade new ads got added =) 1186 ads to click now and recycle upgrade 1$+ is delivered again =)
popesaw
Traffic Value: $1,687.19051 Spain
Activate to receive recycled ads and I have received 754 ads all of them for a value of $ 1, it's crazy, how can I recycle them all, I do not see that option.
slosumo - Administrator
Traffic Value: $28,438.4426 Slovenia
Added ptcshare.com to blacklist when creating campaigns.
jordy186
Traffic Value: $868.5955 Netherlands
- is it possible to change the way the ads are sorted ?
now i think it is sorted in value but now i see the smallest ad with the shortest timer at the end whie i dont want them to expire it would be nice to be able to sort them also by time to expire
Vixthra
Traffic Value: $2,179.00664 Slovenia
When you have 477 ads and "only one ad at a time" keeps interrupting you :/
jordy186
Traffic Value: $868.5955 Netherlands
having so many ads to click is good to see how the sites is fuctioning and beside some small things i think the site works really good .
The ad interuption is the most annoying one that should be fixed.
Other then this i can only say "good job guys!!"

Maybe an idea to give the users of paidverts a 1 time oportunity to buy something like a package 
Cost 25K baps to add 20K baps to their PTC share account?
pisti87
Traffic Value: $952.82322 Hungary
@jordy186: Ads order can be changed in the Account Data menu.
jagodinac123
Traffic Value: $354.01015 Serbia
"only one ad at a time"  is getting even more frequent... this is awful at the moment...
Page: 1, 2, 3, 4, 5, 6, ... , 46, 47, 48